Since becoming a mother to my lovely little boy, who has stretched and butchered my body in any way you would think possible, I've gone from nicely fake tanned wonder to a pale, bruised bombshell.
I like to wear hosiery when I put on a skirt or a dress. I've learnt how to make it add to the outfit and it encourages me to feel more confident when I'm out and about; knowing those unsightly bruises are covered up is a weight off my mind.
But Summer hits and I either swelter or let my legs free. I've learnt there's another option.
I was sent a spray-can of
Nyce Legs
; a mineral based colourant which promises to tone and firm your legs, hide your spider veins, scars and blemishes whilst looking and feeling like real hosiery. Sounds good? This spray on formulation, that leaves you free to wear tootsie-free shoes, was originally available in three shades; Light, Medium and Dark beige. However, for the UK launch these shades have been extended to four options; Light, Medium, Coffee and Dark. I was sent Medium beige from the original range which was too dark for my fair skintone (aka. ghost white). It also claims to be water resistant, fast drying and easy to apply.
I'll start with a word of warning, when applying this product you need to stand on an old towel or on a floor that wipes easily. The formula does tint your carpet/rug and requires some scrubbing to get out. Once you're ready and you've formula-proofed your room, the method for applying
Nyce Legs
is quite simple if a little messy. Hold 6 inches away from your leg and spray lightly onto the area you wish to cover. Smooth with your hands. Wash your hands. All done.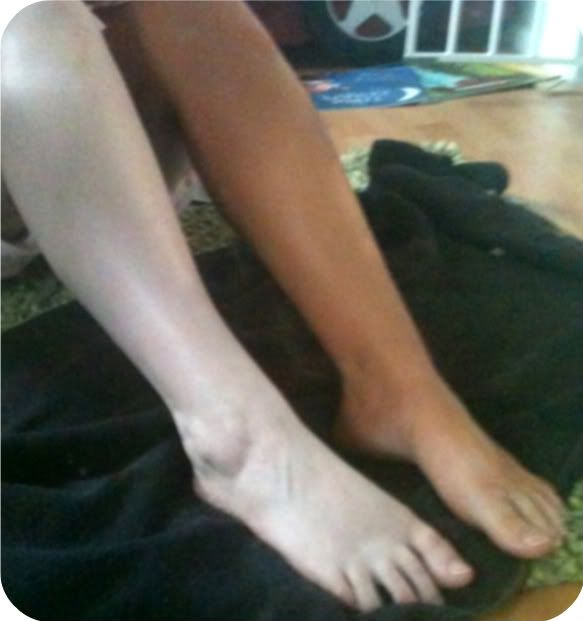 I found that when applying lightly the spray left speckles on my legs that were hard to disguise by smoothing. I had to spray a little extra to allow me to have a smooth colour. However, I could imagine that with the lighter shade this method of application would create a lovely effect. The product did cover my bruises and marks to the back of my calf really really well. I was left with glowing legs, far too dark for my skin tone and my hair colour but it did look as though I was wearing a fake tan. Overall, a good product if you have a more 'typical' skin tone, handy to have in the summer months so you can thrown on some flip flops or peep toes and good for hiding the bumps and bruises us Mums get when playing with our brood. Sadly it didn't suit my skin tone and from looking at the photographs I do think that the lighter shade would probably still be a tad too dark for me. If you're olive, tanned or midtoned, I'd say this is definitely worth a whirl.
Beckicklesie received one complimentary can of Nyce Instant Nylons. Blogging with Integrity.